District 9 [Improv Comedy]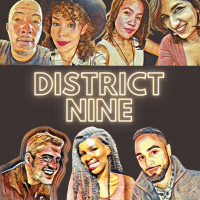 Show Details
Show Date:
Friday, March 10, 2023 @ 7:00 PM - 8:00 PM MT
Location:
RISE Comedy, 1260 22nd St, Denver, CO 80205
Price:
$14/advance & $16/door + fees
Get Tickets Now!
---
District 9 [Improv Comedy]
District 9 is a team of BIPOC improvisers that build worlds, create characters, and tell original stories – authentically and unapologetically! Get to know the performers as people based on stories they tell prompted by audience suggestions, then watch the improv unfold!